Yellow Bus Transportation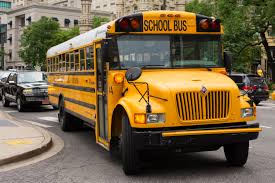 APPLYING FOR YELLOW BUS SERVICE
Whether your child is new to yellow bus service or a returning rider, you need to apply for yellow bus service each school year.
NEW PROCESS FOR 2020-21
For the 2020-21 school year, things will look a little different. We are organizing the school year into four instructional quarters to allow you to choose how your child will learn: in-person or online.
Quarter 1: September 3–November 10

Quarter 2: November 16–January 29

Quarter 3: February 1–April 20

Quarter 4: April 21–June 29
These quarters also impact the application process for yellow bus service. If your child is a current student who attends classes in person and applied to use yellow bus service for the 2020-21 school year, you do not need to apply every quarter.
You will need to apply for yellow bus service if your child is:
an online student who is switching to in-person learning

taking classes in person and is not currently riding the bus, but wants to start using the service

a new student to Edmonton Public Schools
Three weeks before the start of each quarter, you will be asked to indicate your choice of in-person or online learning for the following quarter. This is also when you should apply for yellow bus service, as it gives the Division time to plan routes.
Learn more about how to request changes to bus routes and view the deadline schedule.
HOW TO APPLY
Review information about yellow bus service eligibility, then fill out the online application form that applies to your child:
You should contact your child's school if:
you want to apply as a

conditional rider

you are a Pre-Kindergarten rider

you need to update your address